In recent days, The U.S. Postal Service (USPS) has warned that it may be broke as soon as September of this year. So far, the federal government refuses to provide funds to keep this essential service running. That has fostered an online grassroots campaign to fund the USPS by purchasing postage stamps. Great idea!
The premise is that if every adult in the United States bought a 20-stamp pane or booklet, it would immediately raise $2.3 billion and would ensure the continued longevity of American mail delivery, which is one year older than the republic itself, having been organized by no less a luminary than Benjamin Franklin in 1775.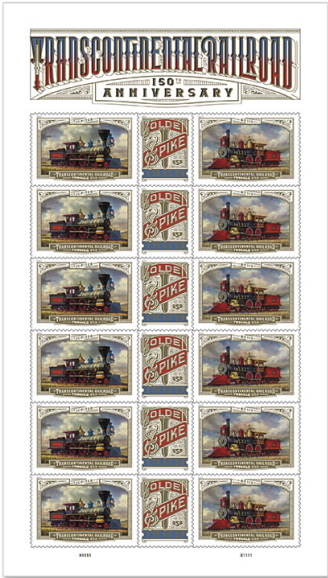 Buying postage stamps is as easy as picking them up from Walmart, grocery stores, or other retailers in the normal course of business. Just ask at checkout. The cashier will either have them or will direct you to customer service.
Of course, postage stamps can be bought at any post office, where you will usually find a nice selection of commemorative stamps from which to choose.
If you don't want to go out in public during these days of pandemic, just order online from the U.S. Postal Service. Click Here or on the photo above to be taken to the USPS' website to order a pane of these elegant Transcontinental Railroad commemoratives (18 forever stamps for $9.90) or to see what else is to your liking.
The inability to mail Aunt Beatrice a birthday card, send a postcard to friends, or to ship a care package to the grandkids is not something any of us want to live with.
Let's save the USPS. It's good for individuals and families. It's good for communities and states. It's good for the United States of America. Let's make this happen.
#BuyStamps #SaveTheUSPS #MailTheLove